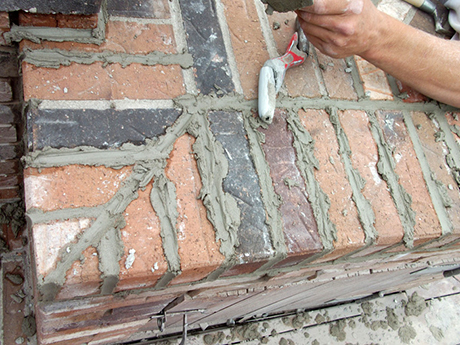 If your bricks need repair or your walls show signs of weakened mortar call 705-730-3371 and make an appointment for a Jay's Masonry estimate today.
Re-pointing
Mortar Replacement and Repair
Retrofitting
Complete Walls
Spot Repairs
Step Cracks
---
Over time the mortar joints between the bricks, block or stone on your home will deteriorate. This is often a result of the weather, particularly here in Ontario, where we have extreme seasonal temperature changes.
Tuck pointing is the process of repairing the mortar between bricks in masonry. The old mortar is ground down or removed to a certain depth, and new mortar is added to fill the spaces. Tuck pointing sounds like a straightforward process, but it is quite technical as well as labour intensive and should only be done by experts, like Jay's Masonry. Based on the material, location and situation, we know the best mortar to use, to get both the structural results and appearance you want.
Reasons for tuck pointing with Jay's Masonry
Neglecting deteriorated mortar joints can lead to larger problems such as deteriorating bricks or even loosening bricks.
In addition to making the masonry of your walls or chimney look good, tuckpointing keeps the moisture away and maintains the strength and integrity of your brickwork.
Taking action with mortar repair by a skilled mason now will prevent major repairs or the expensive need for total replacement in future.